My Blog
Posts for tag: jaw pain
By Dr. Mark C. Pothitakis
June 28, 2020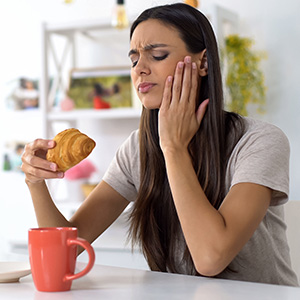 Eating is like breathing: We often do it without much thought. But if you suffer from chronic jaw pain, every bite can get your attention—and not in a good way. What's worse, in an effort to avoid the pain associated with a temporomandibular joint disorder (TMD) you might make less than nutritious food choices.
But there are ways to eat healthy without aggravating the symptoms of TMD—not just your choices of food, but also how you prepare and actually eat the food. Here are 4 tips that can help you manage eating with TMD.
Choose moist foods in sauces or gravy. A lot of chewing action is intended to mix saliva with tough or dry foods to make them easier to digest. But this extra jaw action can irritate the jaw joints and muscles and increase your discomfort. To help reduce your jaws' work load, choose foods with a high moisture content, or cook them in a sauce or gravy.
Peel foods with skin. Fresh fruits and vegetables are an excellent source of vitamins and minerals, but their tough outer skin or peel is often hard to chew. Although these parts may also contain nutrients, removing them allows you to gain most of the nutritional benefit of the food while making it easier to chew it.
Cut foods into bite-size pieces. A lot of discomfort with TMD occurs with having to open the jaws wide to accommodate large pieces of food. To minimize the amount of jaw opening, take time to cut all your food portions down into smaller pieces. Doing so can help you avoid unnecessary discomfort.
Practice deliberate eating. All of us can benefit from slower, more methodical eating, but it's especially helpful for someone with TMD. By chewing deliberately and slowly and doing your best to limit jaw opening, you can enhance your comfort level.
Eating often becomes an arduous task for someone with TMD that increases pain and stress. But practicing these tips can make your dining experience easier—and more enjoyable.
If you would like more information on managing TMD in everyday life, please contact us or schedule an appointment for a consultation. You can also learn more about this topic by reading the Dear Doctor magazine article "What to Eat When TMJ Pain Flares Up."
By Dr. Mark C. Pothitakis
May 22, 2014
Chronic pain and reduced function of the jaw joints, muscles and other surrounding tissues is generally known as a temporo-mandibular joint disorder (TMJD or TMD). It's also possible that sufferers of TMD may also experience chronic pain in other parts of the body.
TMD affects from 10 million to 36 million American adults, mostly women of childbearing age. Although the exact causes are still elusive, most researchers believe this family of conditions arises from a combination of gender, genetic, environmental and behavioral factors. This may also hold the key to its connection with other painful conditions in the body.
About two-thirds of patients with some form of chronic jaw pain or disability also suffer from three or more similar medical conditions, including fibromyalgia, chronic fatigue syndrome, rheumatoid arthritis, headaches or sleep disturbances. Investigating the connections between these conditions is a fertile area for developing treatment strategies that would benefit all of these associated conditions.
In the meantime, there are both thermal and surgical treatments for alleviating and managing pain associated with TMD. About 90% of TMD patients respond well to thermal treatments, including hot and cold compresses applied to the jaw area and hot baths. Surgical treatment, however, has a mixed result: some studies show only a third of those undergoing surgical procedures experience noticeable pain relief and restored function and nearly half indicate worse symptoms after the surgery.
The best approach is to begin with an examination by your primary physician or specialist to be sure you are not suffering from a medical condition mimicking the symptoms of TMD. If this should eventually lead to a diagnosis of TMD, you should first try thermal techniques with over-the-counter pain relievers to ease the symptoms. A diet with softer foods that don't require strenuous chewing may also prove helpful.
If you receive a recommendation for extensive bite treatment or surgery, you should discuss this thoroughly with your dentist, or even seek a second opinion. Surgical treatments in particular are not reversible and the results may not be favorable.
For more information on TMD and networking opportunities with other patients, be sure to visit the TMJ Association (www.tmj.org) on the Web.
If you would like more information on chronic jaw pain, please contact us or schedule an appointment for a consultation. You can also learn more about this topic by reading the Dear Doctor magazine article "Chronic Jaw Pain and Associated Conditions."